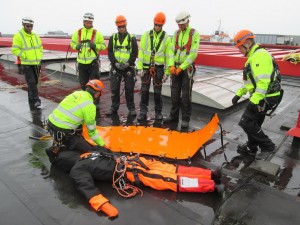 Having workplace emergency response training implemented at the worksite is in the more developed countries of Europe a legal requirement as per relevant health and safety law. Additionally collating proof of emergency response training is also a requirement under laws, H&S regulations and recognised international HSE standards.
The 3 main purposes for workplace emergency response training are to further develop employee competencies to ensure they are practised in their roles and responsibilities should an emergency arise, validation of the plan to ensure it works and to test established emergency procedures. Planning for any emergency can not be considered reliable until it is evaluated through a drill, this eliminates any false dependence on an untested written plan.
3Spires as a health and safety group provide practical offshore and onshore training exercises. Ensuring that company's endeavour to meet the need for continual improvement and comply with their associated commitment to training and their HSE policy statements. We have previously provided man overboard drills, wind turbine evacuation, SKED stretcher training for internal turbine rescue, onshore fire musters, safety fire solutions, and even how to deal with the arrival of the press in a developing emergency scenario.
Including a detailed health and safety report covering pictorial step by step examples of the exercise, the equipment used and the positives, negatives and lessons learned. Three types of drill exercises can be desk top training, discussion-based training such as informative toolbox talks or an actual live drill/re-enactment.
3Spires Safety ensure particular attention to providing a detailed report capturing the pro's and con's of the equipment used during the exercise, the competency of the individuals in the exercise, the effectiveness of the procedure affiliated with the drill, efficiency of time,
communication channels, and weather conditions impacting the exercise.
3Spires Safety provides desktop training and open discussion exercises to meticulously test external company employees on their procedural knowledge and the communication channels they must go through to raise an alarm as well as escalations that are added to the exercise such as the media being present. This training is not designed to catch people out but purely to find gaps in the written plan or gaps in critical health safety training that may be required for the organisation.