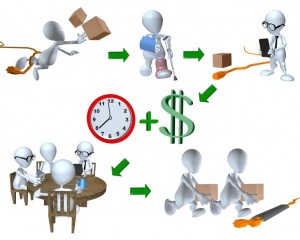 Our organisation offer a conclusive and structured approach to any workplace accident & Incident Investigation, near miss, or dangerous occurrence investigation. Providing quality techniques that uncover causal factors, root cause analysis, and control and mitigation measures to prevent reoccurrences.
Responsive and efficient in collating evidence, with attention to detail to produce a structured report following an accident investigation. 3Spires safety are often appointed to lead workplace accident & Incident investigations. This ensures the development of businesses through analysing the trends and data that led to the incident occurring. If proper techniques are used to collate such data it essentially allows the company to progressively evolve.
Failure to investigate workplace accidents, incidents, and near misses can have severe cost implications for businesses through fines as a result of negligence, court costs, compensation, wages, lost of reputation, increased insurance premiums, impacts on future tenders, and lost time in investigations.
3Spires safety consultants have proven and recognised training in accident investigation, using methods such as the 5 x why and various interviewing techniques. When an incident occurs our priority first and foremost is to make the area safe, ensure nothing is tampered with or moved and assist with any applicable casualties by alerting emergency services and keeping the injured party calm until there arrival.
The next phase is to notify line managers as per the company specific emergency response plan. As the investigation begins our safety consultants will identify secondary investigation scenes as per the emergency response plan, identify what evidence can be identified away from the scene such as risk assessments, method statements, safe systems of work, training, previous shift patterns, maintenance schedules for equipment, and personal/occupational health records. Identification of key witnesses is paramount to the workplace accident & incident investigation so witness statements can be taken, recording the scene with pictures and birds eye view sketched drawings aid the investigation.
Once all witness statements are compiled all the evidence can be reviewed as to determine underlying causal factors and root causes. We analyse statements and identify human failure in relation to human failures and beliefs. Once all evidence is gathered a final report is collated and released to the employer to keep on record and implement the reports corrective actions.
Advising achievable and time bound corrective actions while working to our trial and tested company accident/incident reporting procedure. Ensuring businesses fulfil their commitment to their HSE policy's and legislation by investigation of all accident/incidents and near misses'.